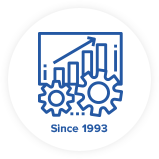 1993 - creation of Ultracon-Service LLC, the first production Company.
1998 - foundation of PRP LLC ("Promprylad"), the second company of our Group.
2004 - establishment of Ukrainian Scientific & Research Institute for Nondestructive Testing.
2009 - Personnel Certification Body for Levels 1-3 was set up on the base of Scientific & Research Institute (PCB UI NDT). We are in progress!
2008 - OKOndt GROUP was established as an engineering corporation for better coordination of all companies' activities within the Group, as well as for their more efficient interaction while implementing big projects and developing new NDT equipment or techniques.
70+countries
We've overgrown our traditional market - CIS and the Baltics. Our export geography is continuously expanding. We are currently exporting our products to 72 countries worldwide.
Ready-made products
Till now, 43 NDT instruments, from portable flaw detectors and thickness gauges to automated inspection systems, have been designed and supplied to end users. About 4000 probes and transducers of various types have been developed, and the majority of them - as customized solutions.
Do recommendation
57% of clients repeatedly address OKOndt GROUP to purchase our ndt equipment and services, recommending them to their partners as well. This is a success! We appreciate the trust of our clients and are always committed to justify it.
OEM products
Ndt equipment manufacturers - PRP LLC ("Promprylad") and ULTRACON-SERVICE LLC - also provide ОЕМ products for foreign partners, as well as for renowned international companies.
Personnel Training Academy
NDT School offers training, qualification upgrade and re-qualification for ndt inspectors. The training can be carried out on almost all testing methods, with a wide choice of industry-specific ndt courses, such as welding inspection courses.
Personnel Certification Body
Personnel Certification Body provides certification for professionals up to ndt level 3 in accordance with ІSO/ІEC 17024:2012. For now, this certificate is valid in 40 countries already.