SMARTSCAN Aircraft Wheel Inspection System is intended for testing of main and nose wheels of aircrafts and helicopters of various world manufacturers such as Messier - Bugatti, Goodrich, Honeywell, Maggitt and others.
Meets the requirement of ISO 15548-1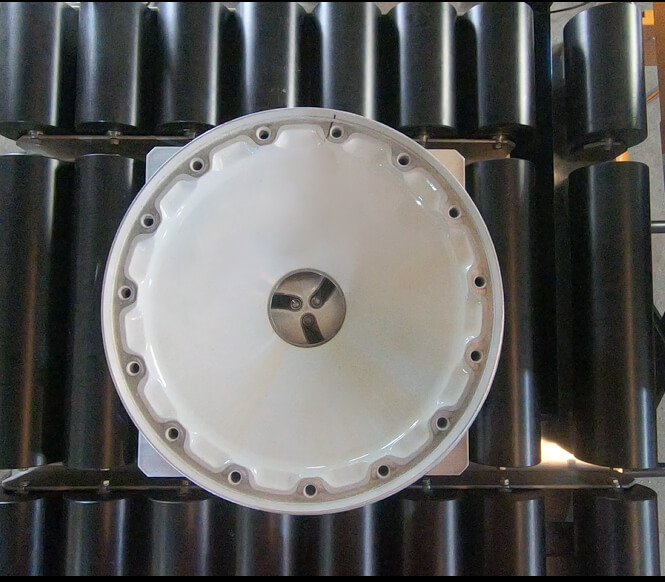 Parameters of the test object
Outer diameters of the tested wheels:
minimum - 7.5 in. (190 mm)
maximum - 35 in. (900 mm)
Diameters of the centered holes of the tested wheels:
minimum - from 1.57 in. (40 mm)
maximum - up to 8 in. (200 mm)
The System consists of the following components (assemblies):
Table (frame) with a tray for wheels;
Wheel hub grip mechanism;
Wheel lifting / lowering mechanism;
Wheel rotating mechanism;
Mechanism for ECP movement in horizontal and vertical planes;
Support for the reference block;
Eddycon CL flaw detector stand;
System control panel.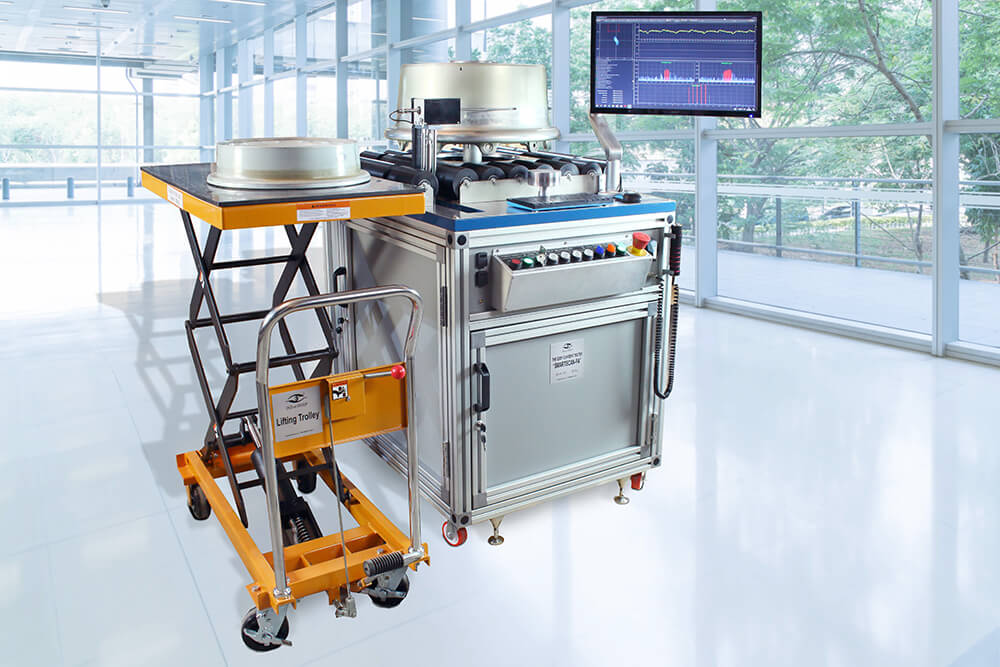 The System is produced in two versions:
SMARTSCAN
Model SMARTSCAN enables semi-automated inspection of wheels with portable eddy current flaw detectors of different manufacturers.
The SMARTSCAN kit includes Eddycon CL flaw detector.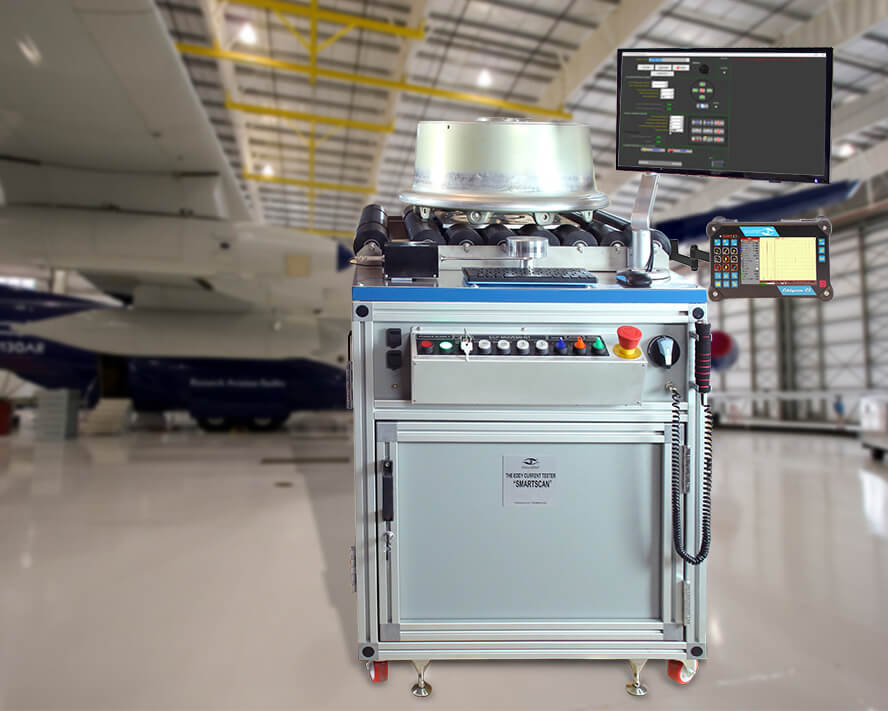 SMARTSCAN-FA
Model SMARTSCAN-FA enables fully automated cycle of inspection with stop on defect mode, storage of inspection results and database creation, as well as printouts of inspection reports, etc.
Eddycon D flaw detector is delivered in the SMARTSCAN-FA kit.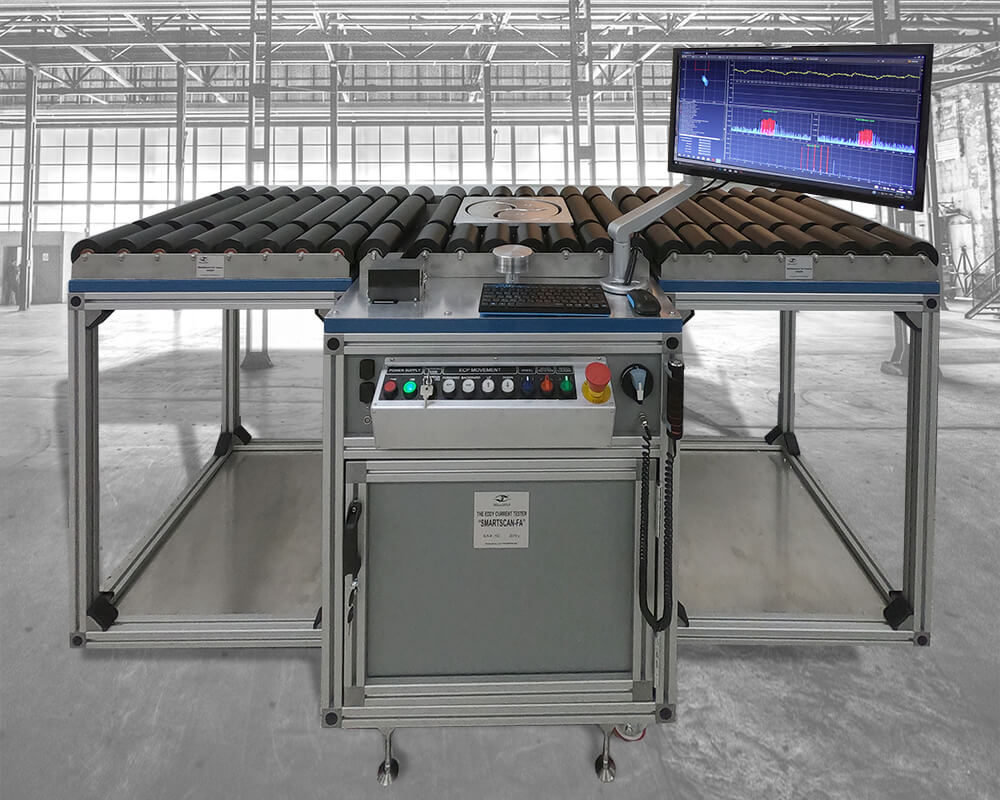 Various versions of the system for aircraft wheel inspection allow wheel shops to select the most suitable kit for their needs to maximize output and automate recording of inspection results.
Reports of wheel inspection may be crucial as a proof of performed wheel inspection and its results.
Smartscan System Benefits:
A unique algorithm of ECP "sticking" to the inspected surface, i.e. tracking the wheel profile even in case of vertical and horizontal wheel shifts;

Wheel inspection in the "flange up" and "flange down" positions;

Reliable wheel centering for heavy weight wheels;

Adapters for inspection of wheels without a hub with a driven nipple (upon request);
A remote "Pause" button allowing to stop testing and perform a manual confirmatory testing procedure;

Lockups which stop excessive force used in bringing the ECP movement mechanism to prevent an operator's injuries and mechanical damage of the ECP.
System Features:
The System is controlled from the operator's control panel as well as from the special purpose software interface;

Quick manual bringing of the ECP to an inspected wheel to determine the settings (wheel lifting height, coordinates of ECP progression for inspection start and completion);

Automated ECP performance validation by scanning the reference block before inspection and on its completion;

Adjustability of the inspection helix from .004 to .08 in. (from 0.1 to 2 mm) as well as of wheel rotation speed;

Wheel hub grip mechanism allows to center aircraft wheels weighing up to 110lbs (50 kg) in the inspection position and rotate them at a speed of 120 rpm;

Manual and automatic stop on defect;

Return to defect function;

Ethernet connection;

Saving inspection results to the Eddycon CL memory (SMARTSCAN) or PC (SMARTSCAN-FA);

The System software ensures individual inspection setup and saving settings for all the inspected wheels for future use;

Due to high-quality components and modularity of the System, its repair takes minimum time;

Automated process allows inspecting wheel halves with increased output in comparison with manual inspection and still ensuring the area of inspection is 100% scanned;

Ease of use.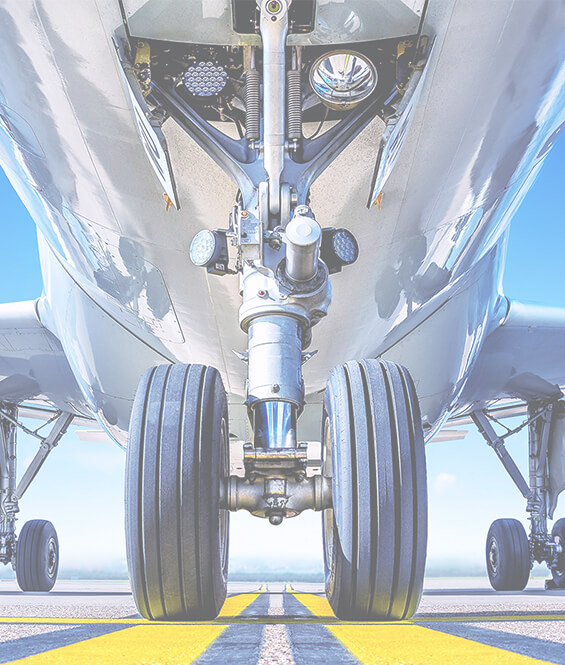 SMARTSCAN System Specifications
Model
SmartScan
SmartScan-FA
System type
Semi-automated
Automated
Overall dimensions
47 x 31 x 39 (in.)*
1200 × 800 × 1000 (mm)*
Weight
No more than 772 lbs (350 kg)
Flaw detector
Eddycon CL
Eddycon D
ECP type

Pencil probe type with a cylindrical head.

Frequency — 200 kHz

ECP diameter – 15/64" (6 mm)

Other standard ECP types – on request

Max wheel diameter
35 in. (900 mm)
Max System load
330 lbs (150 kg)
Inspection helix
Adjustable from .004 to .08 in. (from 0.1 to 2 mm)
Inspection area
Adaptive tracking of the wheel profile surface
ECP vertical movement
17 in. (430 mm)
Rotation speed
10-120 rpm
Inspection speed
up to 33 fps (10 m/s)
up to 75 fps (23 m/s)
Alarms
Visual and acoustic
Visual (acoustic - optional)
Power supply
110-240 V, 50/60 Hz
110-240 V, 50/60 Hz
Data recording and storage

Yes

(Eddycon CL memory card)

Yes

(PC hard drive, database)

Manual inspection

Yes

(set of ECPs for manual inspection)

Optional

(set of ECPs for manual inspection)

Remote "Pause" button
Yes
Wheel position
Flange up/Flange down
Automatic reference block calibration
+
Automatic stop on defect
-
+
Turntable
rubber/plastic coated rolls
Control panel
built-in
Operation modes
Block, Manual (with automatic reference block calibration), Automated
Block, Manual (with automatic reference block calibration), Stop on defect, Return on defect, Automated
Ports
3 – USB ports, HDMI or Display port, Ethernet port
PC computer set
Wireless keyboard and mouse, monitor, system unit, special purpose software
Adapter set
For wheels without hubs
(p/n C20626200 (SAFRAN),
p/n 3-1674 (GOODRICH)